Telepsychiatry Services Q&A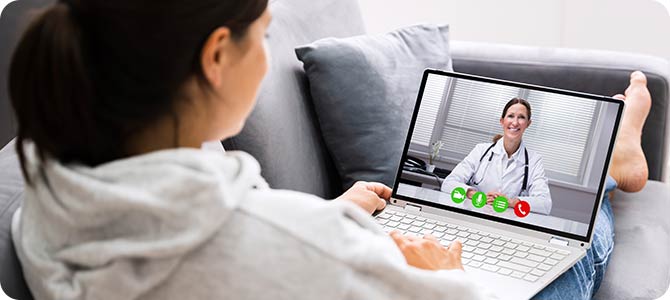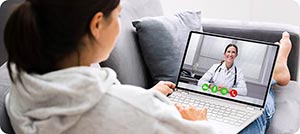 Table of Contents:
Can you see a psychiatrist virtually?
How can I get psychiatric help online?
What are the benefits of telepsychiatry?
How can I book a tele visit?
Telemedicine is becoming increasingly popular in the field of psychology and psychiatry. It's an amazing mental health service for those who may not be able to visit a psychiatrist or mental health care provider in person. Here at Psychiatry of the Palm Beaches, we work hard to reach out to as many people in our community as we possibly can. Whether you're traveling for work, at home feeling under the weather, or you live far away from our offices, booking a telepsychiatry appointment can guarantee you get the emotional and mental support you need to live your best life.
Can you see a psychiatrist virtually?

Not only can you now see general physicians virtually, but you can also see a psychiatrist virtually. This usually happens over a video conference call or sometimes over the phone. You can get virtual mental health services such as group therapy, family therapy, individual therapy, and medication management. Although in-person visits to a psychiatrist are generally a good idea, offering online services is known to improve accessibility and affordability.

Online therapy can be offered through text-based chats, videoconferencing, phone calls, realtime instant messaging, and email. Psychiatrists have the credentials and education to diagnose mental health disorders, prescribe medication, and manage certain behaviors and emotions.
How can I get psychiatric help online?

Patients can get psychiatric help online by booking an appointment at any office licensed to practice medicine in your state. Although some psychiatrists might not offer online services, there are many that will. If you can't find one right away, keep looking and researching. You can always talk to your primary doctor for a referral.
What are the benefits of telepsychiatry?

There are numerous benefits of telepsychiatry including:

• Improved access to mental health care, especially in rural areas
• Affordability
• Reduced needs for emergency mental health care
• Easier to schedule and work around your personal work hours
• Reduces the need for childcare, vehicle access, and time off work
• Helps break mental health stigmas
• Can sometimes be a better option for people who are autistic or who have a severe anxiety disorder

People who can benefit from telepsychiatry include:

• People who live in rural areas
• People who would like to see a specialist whose offices are far away from where they live
• Anyone who is searching for a mental health diagnosis
• Those who rely on medications such as SSRIs, mood stabilizers, stimulants, and antipsychotics
• People with depression, anxiety, PTSD, ADHD, autism, or any other diagnosis
• Anyone who is struggling and simply needs a little bit of help

Everyone falls down sometimes and needs support from others. There's no better support than that of a qualified, kind mental health care professional.
How can I book a tele visit?

Sometimes booking an appointment with a psychiatrist requires a referral from your family physician, therapist, or any other medical professional you have sought out for support. Fortunately, at Psychiatry of the Palm Beaches, booking an appointment is incredibly easy and there is no need for a referral. Contact us today to learn how we can help you. Feeling a little bit nervous to book your first televisit or in-person visit is completely normal. For more information, call us today or book an appointment online. We have convenient locations to serve you. We serve patients from Boynton Beach FL, Delray Beach FL, Palm Beach Gardens FL, Jupiter FL, Stuart FL, Palm City FL, Royal Palm Beach FL, Wellington FL, Vero Beach FL, Citrus Ridge FL, Plantation FL, Sunrise FL, and surrounding areas.