General Psychiatry Q&A
If you're looking to consult a psychiatrist, contact the mental health specialists at Psychiatry of the Palm Beaches. Our experienced and knowledgeable team is dedicated to supporting you during your mental health journey from diagnosis to treatment. For more information about our grief counseling, or to

book an appointment

, contact us at your earliest convenience. Psychiatry of the Palm Beaches serving patients in Boynton Beach, Palm Beach Garden, Stuart, Royal Palm Beach, FL,

Vero Beach FL

Plantation, FL

, and

Jacksonville FL

.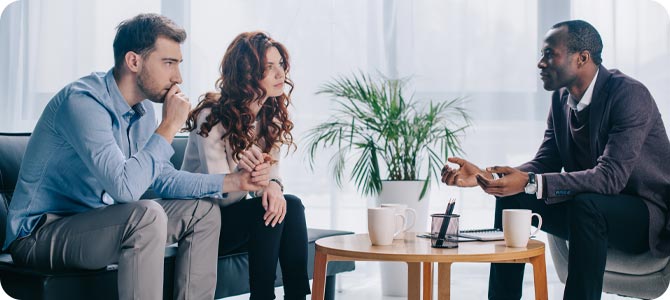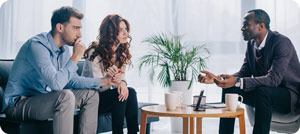 Table of Contents:
What is general psychiatry?
What are the benefits of seeing a psychiatrist?
What can I expect on my first psychiatrist visit?
What mental health disorders do Psychiatrists treat?
General psychiatry is a well-established branch of medicine that focuses on the prevention, diagnosis, and treatment of behavioral, mental, and emotional disorders. It helps patients to understand why they're feeling a certain way, providing valuable insight into what internal and external factors are contributing to certain psychological symptoms.
What is general psychiatry?

General psychiatry is a branch of medicine that focuses on diagnosing, treating, and preventing a wide scope of mental, emotional, and behavioral disorders.
 
In psychiatry, a psychiatrist, who is a mental health professional with abundant knowledge and experience in mental health matters, assesses both the mental and physical aspects of a patient's problems to best understand, diagnose, and treat them. They can both order and perform a full range of medical tests, both physical and psychological, to help provide a comprehensive picture of the patient's physical and mental state.
What are the benefits of seeing a psychiatrist?

Psychiatric treatment offers many benefits to those who are struggling with their mental health. These benefits include:
 
● Providing clarity and insight into mental health conditions that can be difficult to identify and diagnose.
● Getting an accurate and comprehensive diagnosis that takes both your mental and physical health into consideration.
● Getting both your physical and mental health assessed.
● A comprehensive treatment plan that addresses your physical, emotional, and mental needs.
● Kick-starting personal growth by working on your mental health.
● Improvements to your quality of life stemming from addressing mental health concerns.
● Setting realistic and attainable life goals that can be monitored throughout treatment.
● Receiving the tools and resources to better your physical, mental, and emotional health.
● Receiving consistent and continuous support from a knowledgeable and experienced medical professional.
● Getting suitable referrals when, and if, you need them.
 
It's important to visit a psychiatrist that you feel comfortable being completely open and honest with. Do your research and schedule a consultation so that you can ask any questions that you may have. This is also a good opportunity to gauge whether this psychiatrist is the right fit or not. Transparent and honest communication is vital in tackling your issues and getting the comprehensive treatment that you need.
What can I expect on my first psychiatrist visit?

During your first psychiatric visit, you can expect to meet with your psychiatrist in an appointment that is between 60 and 90 minutes long. During this initial visit, you should expect to be asked an abundance of medically relevant questions to help your psychiatrist build a more complete picture of you.
 
Your psychiatrist will establish a rapport with you by:
 
● Asking questions about your general health.
● Asking you about your family history.
● Doing a physical exam (if deemed necessary)
● Listening to you talk about your concerns and symptoms.
● Asking you to fill out a physical/mental health questionnaire.
 
Depending on your psychiatrist, they may want to speak with other health professionals that you've visited, members of your family, or other people that hold significance in your life. They may also order additional tests to help identify or address coinciding issues.
What mental health disorders do Psychiatrists treat?

A general psychiatrist is knowledgeable and experienced in treating a wide variety of mental health disorders. These include:
 
● Addictive disorders
● Anxiety disorders
● Bipolar disorder
● Borderline personality disorder
● Depressive disorders
● Eating disorders
● Elimination disorders
● Feeding disorders
● Gender dysphoria
● Obsessive-compulsive disorders
● Personality disorders
● Psychotic disorders
● Schizophrenia
● Sexual dysfunctions
● Sleep disorders
● Substance-abuse
● Trauma-related disorders
 
It's important to note that it may take more than one visit to get a proper diagnosis as many facets of mental and physical health have to be taken into consideration. After receiving your diagnosis, your psychiatrist will work with you to develop a comprehensive treatment plan.
 
At Psychiatry of the Palm Beaches, we offer psychiatric support for a wide variety of conditions to better mental, behavioral, and emotional health. No matter where you are in your healthcare journey, know that we always have your well-being at the forefront. Contact us if you're interested in learning more about our services or if you're ready to book an appointment – we're happy to provide the insight you need to feel confident in your decision moving forward. We serve patients from Boynton Beach FL, Delray Beach FL, Palm Beach Gardens FL, Jupiter FL, Stuart FL, Palm City FL, Royal Palm Beach FL, Wellington FL, Vero Beach FL, Citrus Ridge FL, Plantation FL, Sunrise FL, Jacksonville FL, Riverside FL, and surrounding areas.