Top Benefits of Visiting a Psychiatrist Q&A
Read on to find the top benefits of visiting a psychiatrist. Psychiatry of the Palm Beaches has a team of specialists who can help you according to your needs. For more information,

call us

or schedule an

appointment online

. We have

convenient locations

to serve you.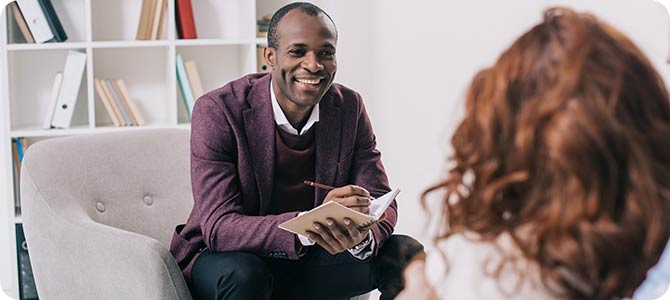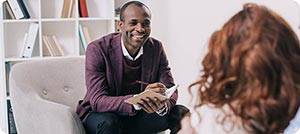 Table of Contents:
What does a psychiatrist do?
What treatments can a psychiatrist provide?
Does seeing a psychiatrist mean you are crazy?
What are the top Benefits of Visiting a Psychiatrist?
Many well-meaning individuals resist any notion of visiting a psychiatrist. However, psychiatrists have improved the lives of millions of individuals dealing with mental health conditions, and the practice of psychiatry continues to evolve to help individuals dealing with mental illness wherever they are at. Our caring and skilled psychiatrists at Psychiatry of the Palm Beaches would be pleased to answer any of your questions or concerns about seeking psychiatric services and can provide high-quality care.
What does a psychiatrist do?

A psychiatrist is a medical doctor whose specialty is in the prevention, diagnosis, treatment, and management of behavioral, emotional, and mental health conditions. To do so, psychiatrists evaluate an individual's symptoms and concerns about their mental health, provide a diagnosis based on a combination of physical examinations, laboratory tests, and psychological questionnaires, and develop a treatment and management plan for that individual based on the diagnosis and their symptoms.

With that in mind, psychiatrists can treat any of the following illnesses or conditions:

• Addictive and substance abuse disorders
• Anxiety conditions, including generalized anxiety disorder (GAD), specific phobias, or social anxiety disorder
• Bipolar disorders, including bipolar 1 and bipolar 2
• Depressive disorders, such as major depressive disorder or seasonal affective disorder (SAD)
• Eating disorders, including anorexia nervosa, bulimia nervosa, binge eating disorder, or avoidant restrictive food intake disorder
• Elimination disorders
• Gender dysphoria
• Neurodevelopmental conditions, such as attention-deficit hyperactivity disorder (ADHD)
• Obsessive-compulsive disorder (OCD) and related conditions
• Personality disorders, such as antisocial personality disorder (APD), borderline personality disorder (BPD), and others
• Sleep disorders, including insomnia, night terrors, restless legs syndrome, and others
• Stress- and trauma-related conditions, including post-traumatic stress disorder (PTSD)

What treatments can a psychiatrist provide?

As there are a wide variety of mental illnesses that a psychiatrist can treat, psychiatrists can also provide numerous treatments for those various illnesses and conditions. Some common treatments that psychiatrists can provide are as follows:

• Antidepressant medications
• Antipsychotic medications
• Anxiolytics and sedatives
• Cognitive behavioral therapy (CBT)
• Hypnotics
• Life Coaching
• Light therapy
• Mood stabilizers
• Psychotherapy
• Stimulants
Does seeing a psychiatrist mean you are crazy?

Not at all! Seeing a psychiatrist means you are self-aware enough to know when you need additional help sorting yourself out mentally, emotionally, or behaviorally. Nobody has it all figured out, and everybody has issues they are dealing with, whether that involves past trauma, trouble sleeping, difficulties handling stress, or chemical imbalances in their brain. With that in mind, it is actually quite normal to see a psychiatrist, even if some individuals require more psychiatric help than others.
What are the top benefits of Visiting a Psychiatrist?

A psychiatrist can help individuals in numerous ways, regardless of issues or concerns you have with your mental health. As such, some top benefits of seeing a psychiatrist include:

• Experience enduring relief from anxiety, depression, or other symptoms of mental illness
• Help you gain traction in your self-esteem, which can lead to positive personal change
• Identify the root issues that are causing problems with your behavioral, emotional, or mental health
• Improved management of stress, emotions, and insecurities
• Safely confront and overcome your fears

We would be happy to have you at Psychiatry of the Palm Beaches in Boynton Beach, Florida if you are considering psychiatric treatment! For more information about our psychiatry services, please do not hesitate to call us or schedule an appointment online. We have convenient locations to serve you. We serve patients from Boynton Beach FL, Palm Beach Gardens FL, Stuart, FL, Wellington, FL, Jupiter FL, Lake Worth FL, West Palm Beach FL, Delray Beach FL, Riviera Beach FL, Century Village FL, Lake Park FL, Forth Piece North, FL, Lakewood Park, FL, Westlake, FL, Loxahatchee Groves, FL and North Palm Beach FL.