What Does a Psychiatrist Do?
A psychiatrist evaluates, diagnoses, and treats mental, emotional, and behavioral problems. Psychiatrists are medical professionals who may prescribe and administer medical or psychological testing. Psychiatrists may diagnose mental health issues using test results along with discussions about symptoms and medical and family history. Psychiatrists at Psychiatry of the Palm Beaches offer tailored treatment plans to help you feel better. For more information, contact us today or book an appointment online. We have convenient locations to serve you in Boynton Beach FL, Palm Beach Gardens FL, Stuart FL, Royal Palm Beach FL, Vero Beach FL, Plantation FL, and Jacksonville FL.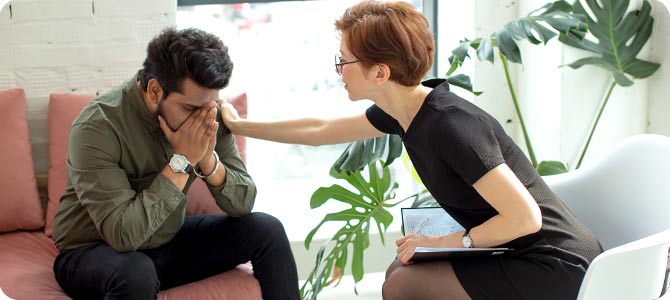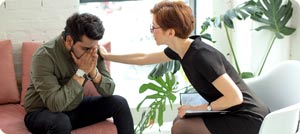 Table of Contents:
What does a psychiatrist actually do?
Why would you need to see a psychiatrist?
How long does it take for a psychiatrist to diagnose you?
What are the 5 signs of mental illness?
What does a psychiatrist actually do?

Psychiatrists specialize in the field of mental health and wellness. These professionals are medical doctors who can diagnose, treat, and manage mental health conditions such as bipolar disorder, schizophrenia, major depressive disorder (MDD), and generalized anxiety disorder (GAD). Psychiatrists begin this process by conducting a thorough assessment of the patient's health history and symptoms. The doctor will listen to the patient's experiences, thoughts, and emotions to identify the presence of psychiatric disorders.

Psychiatrists are the only mental health professionals who can prescribe medication to manage and treat various disorders. Psychiatrists have the expertise to recommend, prescribe, and monitor the use of psychiatric medications. They ensure that the selected treatment route is safe, effective, and well-tolerated.

In addition to medication, psychiatrists can provide various forms of psychotherapy. During psychotherapy, psychiatrists offer a safe space for their patients to openly discuss their feelings and experiences to develop useful strategies to cope with their mental health conditions. In summary, the role of a psychiatrist is to help patients live fulfilling lives while managing their psychiatric conditions effectively.
Why would you need to see a psychiatrist?

If you find yourself dealing with a psychiatric condition, it's highly advisable to consult a psychiatrist. These professionals offer valuable expertise that can significantly improve your quality of life. Whether you're dealing with major depressive disorder (MDD), bipolar disorder, anxiety disorders, or more complex conditions such as schizophrenia, seeing a psychiatrist can make a substantial difference.

The support of a professional becomes especially crucial during psychiatric emergencies. By crafting personalized treatment plans that account for your medical history and current circumstances, these experts ensure you receive the best care available. Moreover, psychiatrists don't just treat diagnosed conditions; they help patients promote mental wellness through education and preventive strategies. If you or a loved one is facing mental health challenges, reaching out to a psychiatrist can be a life-changing step toward a happier and healthier life.
How long does it take for a psychiatrist to diagnose you?

Generally, a mental health evaluation, in which the psychiatrist assesses your symptoms and medical history, can last anywhere from 20 to 90 minutes. This assessment is a crucial first step in the diagnostic process. However, it's important to keep in mind that the process of reaching a firm diagnosis may take longer in some cases.

Most of the time, the expert will be able to provide a preliminary diagnosis immediately after your initial evaluation. In complex cases, however, further assessment and observations may be needed to reach a diagnosis. In this scenario, the psychiatrist will need to gather additional information, collaborate with other healthcare professionals, and closely monitor your condition over several appointments. This method ensures that all factors are considered and the diagnosis is accurate.

Patience and open communication with the doctor are key during the diagnostic stage. Overall, you will receive your diagnosis quite quickly in most cases.
What are the 5 signs of mental illness?

It's important to be able to recognize the signs of mental illness and know when to seek support. Five common indicators of mental health conditions include:

• Emotional changes – A significant shift in emotions or moods, such as persistent sadness, extreme anxiety, or excessive anger, can indicate the presence of mental health issues and disrupt daily life.
• Personality changes – When a person's behavior or personality noticeably changes, it is often a sign of mental health concerns. For example, increased irritability, aggression, or extreme mood swings are common personality changes caused by mental illness.
• Feelings of hopelessness – A persistent sense of hopelessness, helplessness, or being overwhelmed by life's challenges is a warning sign of mental health problems. Thoughts of self-harm or suicide are especially concerning and should be addressed with professional support immediately.
• Lack of self-care – Neglecting personal hygiene, nutrition, and self-care routines can point to mental health struggles. Drastic weight changes, poor sleep patterns, or lack of interest in grooming are all things to look out for.
• Increased isolation – People experiencing mental illness tend to isolate themselves due to feelings of guilt or shame.

If you notice these signs in yourself or a loved one, it's highly advisable to seek support from a psychiatrist. For more information, contact us today or book an appointment online. We serve patients from Boynton Beach FL, Delray Beach FL, Palm Beach Gardens FL, Jupiter FL, Stuart FL, Palm City FL, Royal Palm Beach FL, Wellington FL, Vero Beach FL, Citrus Ridge FL, Plantation FL, Sunrise FL, Jacksonville FL, Riverside FL, and surrounding areas.